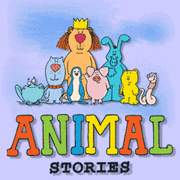 Animal Stories is a short series which aired on CITV during 1998 to 2001. Each episode, with animals which have their problem (for example, a pig who thinks he's fat, a dog with bad breath, a penguin that can't fly and a cat who is a very picky eater), are narrated in rhyme, either done by either Nigel Hawthorne in the UK or Alan Marriott in the US. The shorts were made by Collingwood and Co. (originally Collingwood O'Hare Entertainment). 
The series was put on Playhouse Disney's Mini Movies during 2001 to 2002.
For a list of all the shorts in the series, see this list.