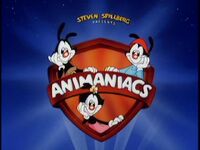 Steven Spielberg Presents Animaniacs, usually referred to as simply Animaniacs, is an American animated series, distributed by Warner Bros. Television and produced by Amblin Entertainment and Warner Bros. Animation.
The comedy of Animaniacs was a broad mix of old-fashioned wit, slapstick, pop culture references, and cartoon violence and wackiness. The show featured a number of comedic educational segments that covered subjects such as history, mathematics, geography, astronomy, science, and social studies, often in musical form.
Animaniacs itself was a variety show, with short skits featuring a large cast of characters. While the show had no set format, the majority of episodes were composed of three short mini-episodes, each starring a different set of characters, and bridging segments.
This is shown on CITV in the UK.
Ad blocker interference detected!
Wikia is a free-to-use site that makes money from advertising. We have a modified experience for viewers using ad blockers

Wikia is not accessible if you've made further modifications. Remove the custom ad blocker rule(s) and the page will load as expected.