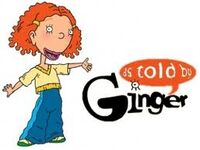 As Told by Ginger or simply Ginger is an American animated series for adults that was made by Klasky Csupo and premiered on Nickelodeon in October 2000. As Told by Ginger was shown on CITV.
The show focuses on Ginger Foutley and her adventures at Lucky Jr. High, as she records them in her diary. The series was noted for its storylines, character development and the fact that the characters change outfits each time a new day comes.
Ad blocker interference detected!
Wikia is a free-to-use site that makes money from advertising. We have a modified experience for viewers using ad blockers

Wikia is not accessible if you've made further modifications. Remove the custom ad blocker rule(s) and the page will load as expected.