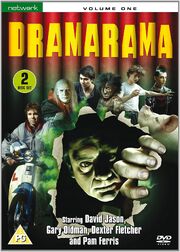 Dramarama was a British children's anthology series broadcast on ITV between 1983 and 1989. The strand tended to feature single dramas with a science fiction, supernatural and occasionally satirical theme. It was created by Anna Home, then head of children's and youth programming at TVS, however the dramas themselves were produced by a total of twelve ITV regional companies. Thus, each episode was in practice a one-off production with its own cast and crew, up to and including the executive producer.
Dramarama was largely a showcase for new talent to television and offered debuts for Anthony Horowitz, Paul Abbott, Kay Mellor, Janice Hally, Tony Kearney, David Tennant and Ann Marie Di Mambro. It was also one of Dennis Spooner's last works.
One of the stories, Thames' Dodger, Bonzo And The Rest from 1984, proved so popular that it was spun off into its own series and Christmas special the following year - the series starred Lee Ross and recounted life in a large foster home. Another story, Granada's Blackbird Singing in the Dead of Night from 1988, was developed into the long-running series Children's Ward. The original Dramarama story was co-written by Paul Abbott and Kay Mellor - at the time, working as staff writers for Granada.
There is a 2-disc DVD set featuring all of the episodes produced by Thames Television.