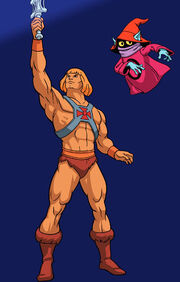 He-Man and the Masters of the Universe is an American animated television series produced by Filmation Associates, based on the Masters of the Universe toyline from Mattel. The show, often referred to as simply He-Man, was one of the most popular animated children's shows of the 1980s, and has retained a heavy cult following to this day. He-Man made its Children's ITV debut on 5 September 1983 and continued too air on Mondays until it was moved to Tuesdays in 1987.
Ad blocker interference detected!
Wikia is a free-to-use site that makes money from advertising. We have a modified experience for viewers using ad blockers

Wikia is not accessible if you've made further modifications. Remove the custom ad blocker rule(s) and the page will load as expected.