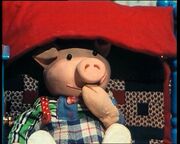 Huxley Pig is a Stop Motion Series made in 1989 and 1990 it was produced by Filmfair and Central Independent Television. The series is all about Huxley Pig daydreaming that he and his friend Sam Seagull go on adventures and meet friends. In the dreams, Sam could only talk in a cockney voice.
Characters
Huxley Pig
Sam Seagull
Horace
Vile Vincent
Cuddles
Sidney the Snake
The Ringmaster
Lady Agatha
Ethel Gloria and Myrtle
The Zookeeper
Ad blocker interference detected!
Wikia is a free-to-use site that makes money from advertising. We have a modified experience for viewers using ad blockers

Wikia is not accessible if you've made further modifications. Remove the custom ad blocker rule(s) and the page will load as expected.