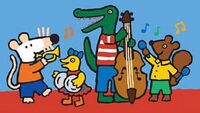 Maisy is a British-American children's animated television series based on the book series by Lucy Cousins. It is narrated by Neil Morrissey. In the United Kingdom, it was broadcast on CITV from 1999 to 2001. The series was produced by King Rollo Films and PolyGram Visual Programming (later as Universal Pictures Visual Programming when PolyGram folded into Universal, when the company itself was bought by beverage brand, Seagram).
It uses a reggae-influenced theme song and voice characterizations and sound effects by The Umbilical Brothers.
The show focuses on the lives of Maisy Mouse and her friends. A mellow-voiced narrator narrates the action and communicates with the characters while the animals go through their paces without speaking; they instead make various odd sounds and noises that sound like speaking. The narrator, however, can understand them easily because he's the only one that actually speaks. The animated series keeps the two-dimensional visual style of the books.
Characters
Edit
Maisy (sounds by Lara Jill Miller) – A mouse who lives in an orange house with a red roof.
Tallulah (sounds by Jessica DiCicco) – A chick almost always seen wearing a dress and a bow on her head.
Cyril (sounds by Nika Futterman) – A squirrel who wears a bowtie.
Eddie (sounds by Catherine Taber) – An elephant who is often in settings where he is too big to participate.
Charley (sounds by Cristina Puccelli) – A crocodile who loves to eat.