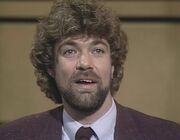 Matthew Kelly was the first ever Children's ITV presenter who started the weekday afternoon strand in January 1983. He would travel between programmes in his "rocket ship" before the concept became retired a few months later. He also presented lineups in December 1984, April 1986 and all the way through the autumn of 1986 from September to December, thus introducing the entire second series of Thomas the Tank Engine and Friends.
Apart from presenting Children's ITV, Matthew has also starred in the long running biographical television documentary series, This Is Your Life.
Ad blocker interference detected!
Wikia is a free-to-use site that makes money from advertising. We have a modified experience for viewers using ad blockers

Wikia is not accessible if you've made further modifications. Remove the custom ad blocker rule(s) and the page will load as expected.