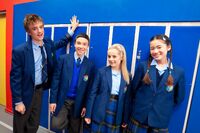 My Phone Genie is a British children's comedy-drama series about a young girl with a genie in her mobile phone. The series premiered on 1 January 2012 and will run for 26 episodes, airing on CITV and ITV1.
Remember the genie who used to live in a lamp in the old folk tale? He's found a hi-tech modern home in a phone. All eleven year-old Jasmine Hart wanted was the free ringtone download advertised in an online advert, but instead she got landed with Gene in this new live action comedy.
Main characters
Edit
Ad blocker interference detected!
Wikia is a free-to-use site that makes money from advertising. We have a modified experience for viewers using ad blockers

Wikia is not accessible if you've made further modifications. Remove the custom ad blocker rule(s) and the page will load as expected.