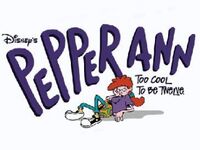 Pepper Ann is an American animated series created by Sue Rose and aired on ABC. It debuted on September 13, 1997.
Pepper Ann starred cartoon adolescents and charted their ups and downs at Hazelnut Middle School. It aired as part of the Disney's One Saturday Morning block. The character originated in a comic strip published in YM magazine. The show was shown on CITV in the UK.
The show centers on the titular character, Pepper Ann Pearson, a 12-year-old girl whose emotions come out in fantasies. The show was designed to be a "different sort" of girl's cartoon, and features many strong-willed female characters who aggressively reject the idea of passive femininity
Pepper Ann's best friends are Milo Kamalani, a very eccentric, highly dramatic artist; and Nicky Little, a soft-spoken, overachieving aspiring violinist. Other fellow students at Hazelnut Middle School include rich and spoiled Trinket, German boy Dieter Liederhosen, popular airhead Cissy, gossipy twins Tessa and Vanessa, Nicky's boyfriend, the RC car-racing "nerd" Stewart Walldinger, and the cool 8th-grader, Craig Bean. Pepper Ann has no real enemies except Principal Hickey, a tough disciplinarian with zero tolerance for Pepper Ann's shenanigans, Wayne Macabre, an annoying radio DJ, and Alice Kane, an uppity snob who refers to her as "P. Ann". As well, Pepper Ann usually receives advice from her conscience in the form of her reflection.