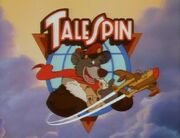 TaleSpin is an American animated television series based in the fictional city of Cape Suzette, that first aired on CITV in 1992 and ended in 1994, with characters adapted from Disney's 1967 animated feature The Jungle Book. The name of the show is a play on "tailspin'", the rapid descent of an aircraft in a steep spiral. The two words in the show's name, "tale" and "spin", are a way to describe telling a story.
TaleSpin is set in the fictional city - state of Cape Suzette (a pun on the pancake dish, Crêpe Suzette), a harbor town protected by giant cliffs through which only a small opening exists. The opening in the cliffs is guarded by anti-aircraft artillery, preventing flying rabblerousers or air pirates from entering the city. Characters in the world of TaleSpin are anthropomorphic animals. The timeframe of the series is never specifically addressed, but appears to be in the mid to late 1930's; the helicopter and jet engine are experimental devices and most architecture is reminiscent of the art deco style of that period. World War I ended "nearly 20 years ago", and radio is the primary mass medium (In one episode, the local station is identified as "K-CAPE"). Also, in one episode the characters talk about the newly invented jet-motor and the possibility of flying faster than the speed of sound.
The series centered on the adventures of bush pilot Baloo the bear, whose failing air cargo freight business is bought out by Rebecca Cunningham, and renamed Higher for Hire. An orphan boy and former Air Pirate, the ambitious Kit Cloudkicker, attaches to Baloo and becomes his navigator. He sometimes calls him "Papa Bear". Together, they are the crew of Higher for Hire's only aircraft, a modified Conwing L-16 named the Sea Duck. From there, the series follows the ups and downs of Higher for Hire and its staff, sometimes in the vein of old action-adventure film serials of the 1930s and '40s like Raiders of the Lost Ark.
Their adventures often involve encounters with a gang of Air Pirates led by Don Karnage, representatives of Thembria, which is a parody of the Stalinist Soviet Union inhabited by anthropomorphic warthogs, or other, often even stranger obstacles.
The relationship between Baloo and Rebecca owes something to the screwball comedy films of the 1930's. It's even more closely patterned after the later years of the television sitcom Cheers—in both shows, a buttoned-down businesswoman named Rebecca takes the reins of a struggling company, then hires its previous owner (a fun-loving but irresponsible slacker) to do most of the work for her.
Ad blocker interference detected!
Wikia is a free-to-use site that makes money from advertising. We have a modified experience for viewers using ad blockers

Wikia is not accessible if you've made further modifications. Remove the custom ad blocker rule(s) and the page will load as expected.