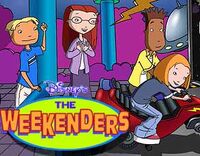 The Weekenders is a Disney animated series about the weekend life of four diverse 7th graders: Tino Tonitini, Lorraine ("Lor") McQuarrie, Carver Descartes, and Petratishkovna ("Tish") Katsufrakis, voiced by veteran cartoon voice-actors: Jason Marsden, Grey DeLisle, Phil LaMarr, and Kath Soucie, respectively.
It is stated at least once that the four main characters are each twelve years old. The setting is the fictional town of Bahia Bay, California. The show was created by Doug Langdale, later creator of Disney Channel's Dave the Barbarian.
Each episode takes place during the weekend. Friday usually sets up the conflict for the episode, Saturday escalates or develops it, and the climactic third act is usually what happens on Sunday.
The implied "ticking clock" is used to signify that the problem must be solved before school on Monday. Unlike most children's cartoons and teenager's television programs, The Weekenders rarely touches upon the aspects of school life. Furthermore, because it is the weekend, the characters are not supposed to be in school, and thus they are allowed to partake in activities that are not school-related (such as playing arcade games) without a logical error.
Disney's Recess chose to set the episodes during the school's designated hour of playtime for a similar effect. (It should be noted, however, that in The Weekenders, homework is occasionally the instigator of conflict, making some episodes related to the characters' academic lives.)