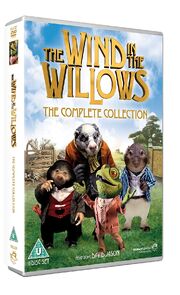 The Wind in the Willows is a TV series that was originally broadcast between 1984 and 1988, based on characters from Kenneth Grahame's classic story The Wind in the Willows and following the film The Wind in the Willows, which was shown over the 1984 Easter weekend on Monday in anticipation of the series debut on Friday. It was made by animation company Cosgrove Hall for Thames Television and shown on the ITV network. An hour-long feature, A Tale Of Two Toads, was broadcast in 1989, and a fifth season of 13 episodes was shown in 1990 under the title Oh! Mr Toad.
Ad blocker interference detected!
Wikia is a free-to-use site that makes money from advertising. We have a modified experience for viewers using ad blockers

Wikia is not accessible if you've made further modifications. Remove the custom ad blocker rule(s) and the page will load as expected.