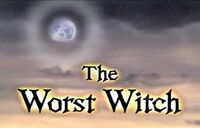 The Worst Witch is a British ITV television series about a group of young witches at a Magic Academy. The series stars Georgina Sherrington and Felicity Jones, and is based on The Worst Witch books by Jill Murphy.
It aired for a total of 3 series between 1998 and 2001 before being followed by Weirdsister College and The New Worst Witch.
The series also stars veteran British actress Una Stubbs as the eccentric chanting teacher, Miss Bat. Felicity Jones was replaced by Katie Allen after the first series, it was explained away as a magical makeover (a "witch-over"). New characters were also added, such as Frank Blossom (the school's caretaker), Miss Crotchet, the music teacher in the third series who replaced Miss Bat and two students from ethnic minorities - Ruby Cherrytree and Jadu Wali.
New recurring characters included Merlin, a wizard apprentice who befriended Mildred, his two mean-spirited acquaintances - Barry 'Baz' Dragonsbane and Gary 'Gaz' Grailquest, Charlie, Frank's nephew who really wanted to be a wizard, Mrs. Cosie, the nervous owner of the nearby tearoom and Mistress Hecate Broomhead, the evil school inspector who later became a brief headmistress.