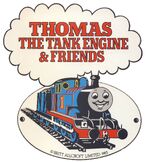 Thomas The Tank Engine & Friends is a British children's television series that adapted stories from the Rev. W. Awdry's Railway Series, first broadcast on the ITV network between 1984 and 1986. The series was produced by Clearwater Features for Britt Allcroft Railway Productions.
The first season was shot at the Clapham Junction railway museum in Battersea; the second season was shot at Shepperton Studios.
As of the third season, the show would undergo several changes in production by later companies, airing on-and-off between CITV and Cartoon Network until July 2006.
Season 1
Thomas & Gordon/Edward & Gordon (October 9, 1984)
The Sad Story of Henry/Edward, Gordon and Henry (October 16, 1984)
Thomas' Train/Thomas & the Trucks (October 23, 1984)
Thomas & the Breakdown Train/James & the Coaches (October 30, 1984)
Troublesome Trucks/James & the Express (November 6, 1984)
Thomas & the Guard/Thomas Goes Fishing (November 13, 1984)
Thomas, Terence & the Snow/Thomas & Bertie (November 20, 1984)
Tenders & Turntables/Trouble in the Shed (November 27, 1984)
Percy Runs Away/Coal (December 4, 1984)
The Flying Kipper/Whistles & Sneezes (December 11, 1984)
Toby & the Stout Gentleman/Thomas in Trouble (December 18, 1984)
Dirty Objects/Thomas's Christmas Party (December 25, 1984)
Off the Rails/Down the Mine (January 8, 1985)
Season 2
Thomas, Percy & the Coal/Cows (September 24, 1986)
Bertie's Chase/Saved from Scrap (October 1, 1986)
Old Iron/Thomas & Trevor (October 8, 1986)
Percy & the Signal/Duck Takes Charge (October 15, 1986)
Percy & Harold/The Runaway (October 22, 1986)
Percy Takes the Plunge/Pop Goes the Diesel (October 29, 1986)
Dirty Work/A Close Shave (November 5, 1986)
Better Late Than Never/Break Van (November 12, 1986)
The Deputation/Thomas Comes to Breakfast (November 19, 1986)
Daisy/Percy's Predicament (November 26, 1986)
The Diseasel/Wrong Road (December 3, 1986)
Edward's Exploit/Ghost Train (December 10, 1986)
Woolly Bear/Thomas & the Missing Christmas Tree (December 17, 1986)
Awards and nominations
Edit
Nominated - British Academy of Film and Television Arts - Best Animated Film

1985, shared between Robert D. Cardona, David Mitton and Britt Allcroft
1987, shared between Robert D. Cardona and David Mitton