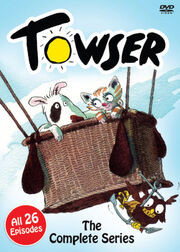 Towser is an animated children's television series based on the books by Tony Ross. Narrated by Roy Kinnear, the show was created in 1982 by King Rollo Films and aired weekdays on Children's ITV from 11 September 1984 to 16 October 1984.
The DVD lists Towser and the Conjuror as the final episode when it was actually the first episode broadcast.
Ad blocker interference detected!
Wikia is a free-to-use site that makes money from advertising. We have a modified experience for viewers using ad blockers

Wikia is not accessible if you've made further modifications. Remove the custom ad blocker rule(s) and the page will load as expected.