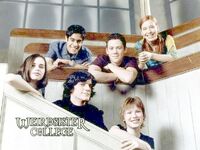 Weirdsister College is the sequel to successful British children's television series The Worst Witch (1998–2001). Weirdsister College ran for only 13 episodes and there have been no publicised talks for a returning series.
From the 26th of October 2009 to mid November, Weirdsister College was shown on CITV Channel. All 13 episodes were shown and aired at 5.30pm to 6.00pm. When all the episodes were aired, The New Worst Witch began.
We follow Mildred Hubble (Georgina Sherrington) in her first year at Weirdsister College, a university for students of magic. Similar to her adventures at Cackle's, Mildred usually messes up, but saves the day in the end. The series has a darker side than The Worst Witch, with evil creatures and a possible doomsday.
External Links
Edit